Hi there! Welcome to Currently, where we share with each other what we are Currently up to and let you share your post through the link-up below. We love this link-up, where we can make new friends and build community. Join us.
Thinking about: Rest.  And how hard it is to come by.  After spending 8 days on vacation, I am feeling exhausted! haha  It was a beautiful vacation, great memories were made.  Vacation with kids, well let's just say it's less than restful.  Hello!  I think I tricked myself into believing otherwise, even though this is not our first family vacation.  Our youngest daughter (17months) got car sick 2 times on the drive to California (enter large amounts of grace as I cleaned up said vomit), and 1 time while driving around the city.  And for some odd reason she didn't speak up and tell us that she wasn't feeling well... ugh babies! ;)  Thank God for a friend that told me about SeaBands, an acupuncture style bracelet that cures travel sickness.  Post SeaBands, we had no vomit to clean up.  Hallelujah!  And then there were the daily meltdowns, temper tantrums and well you know the drill.  Even an asthma attack for our sweet boy, who has recently been diagnosed with Reactive Airway Disease (early Asthma).  Through it all, we really did have an amazing time.  It was such a treat to see the personalities of each of my children, and slow down from our busy, day to day life just to be together.  And man, those kids can be funny (and they also love to be buried in the sand. weirdoes!).
Reading: There were some sweet moments while in Cali that I was able to pull out my Bible and read the Word and a book on St. Gianna that I had brought with.  Both brought such solace among the chaos. Just finished "St. Gianna- The Love Letters of a Saint."  Short and sweet and an easy read.  Do you know about St. Gianna?  She was a working mother (a Doctor) who was so, so, so in love with the Lord.  She died shortly after giving birth to her fourth child.  The book shares of her steadfast faith and how ordinary her holiness was.  I thought to myself after finishing the book, "Okay, I can do that!" and since then, my heart has been so eager to be near the Lord.  Grateful for what that little book and St. Gianna stirred up in my heart.
Listening to: JohnnySwim.  Weird name, but ahhhmazing music.  The harmonies, the amazing lyrics and the fun melodies have been on repeat in my house.  Here is a little somethin' I made off of one of their lyrics.
Watching: Saturday's Season Finale of SNL with Andy Samberg.  I mean, did you see the camp sketch??  Rolling.  Rolling on the floor laughing, I tell you!  The Best!  It's been a while since I laughed throughout the show.  Worth a watch if you are in need of a good laugh.
Thankful for: Gosh.  So much!  After spending a week at the beach, a place where I feel the Lord so strongly, I am so very grateful for the way He speaks through nature.  The ways He gives us a chance to see Him through His creation.
Wishing: (goals for the week)
1.  Sign my daughter up for Vacation Bible School
2.  Read a Chapter of Scripture with my husband every night.  (Long term Goal: Read the entire New Testament this year)
3.  Find a swim instructor that comes to our house for lessons.
CURRENTLY LINK-UP RULES
1. Link your Currently post below! Entries unrelated to the theme will be deleted.
2. Link back to this site so others can join on this adventure with us. You can grab the button below:
3. The link up starts on Mondays, but you can join any day of the week!
4. *THE MOST IMPORTANT RULE* We are each here to encourage each other and build a community of women and friends. :) Comment on the blog post directly before yours to help support and get to know each other. If you do not do this, your post will be deleted from the link-up.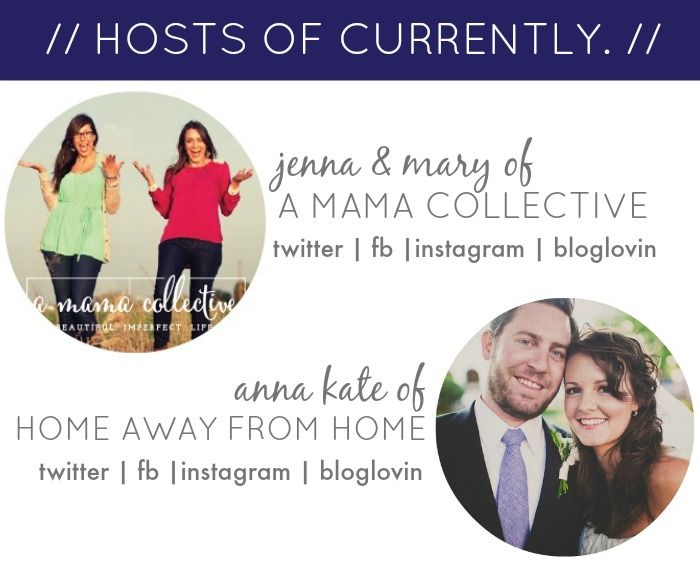 If you are interested in co-hosting, please email Jenna at info(at)amamacollective(dot)com to get on the list!
Here's the template for you to copy and paste and do a post as well — link up with us below!
Thinking about:
Reading:
Listening to: 
Watching:
Thankful for:
Wishing: (goals for the week)