Hi there! Welcome to Currently, where we share with each other what we are Currently up to and let you share your post through the link-up below. We love this link-up, where we can make new friends and build community. Join us.
Thinking about // Grace. Grace that gets me through the day. Because really, I can't do this thing without that. I can't do marriage without that. I can't do motherhood without that. I can't get through shitty work days or days that drag on or days that I feel the weight of the guilt heavy on my shoulders without THAT. That grace.
One of my dear friends Kellie. Thinking about her. About the grace being poured on her in this extremely hard and unthinkable time. About her daughter Lily whose being is the embodiment of grace.
Grace. It's free. And it's giving all.the.time. Even when I don't want it or feel like wanting it. It's there. It's keeping me moving. It's keeping me free from despair. And when I slip through to the depths of despair? It reaches in and floods me, surrounds me, washes me to the surface. Grace.
Reading // I just finished this
. Woohoo!!! Oh my gosh I absolutely LOVED it. I want more, give me more! Okay, sorry I got really excited. But really. I loved it. Tell me what to read next, would you, could you? I need something light (I am not ready for deep theological type anything yet), but good writing. Anything?
Reminiscing about // The girls' adorable dance recital was on Saturday. It was so cute. They dance with Mary's oldest daughter also, so the three of them together is the sweetest thing ever. I love watching their friendships so much!
Watching // Okay, so I got some heat on Facebook for asking who was going to watch Orange is the New Black's new season. And I KNOW it's inappropriate (so inappropriate), but I have to watch SOMETHING while I pump every day at work (because pumping is my hell). I tried Call the Midwife and hated it! (I know, I'll get flack for that one too!)
But really. Orange is the New Black helps me pass the time. I hated it at first because of how sexual it was, but it got better (kind of) a few episodes in. And I like seeing and getting to know the inmates' history because I think it allows us to believe in a redeeming factor in each and every one of them. That's what humanity is about, right? Seeing the good in those you think have none left? Grace, right?
Thankful for // That thing I keep talking about.
My husband and I went on a mini staycation for a night this weekend. It was so needed. Even though we didn't stay up late or even really sleep in (I guess you can count waking at 6am sleeping in), we had dinner with uninterrupted conversation. We watched a movie as loud as we wanted. We moseyed to mass and held each other's hands. We went to breakfast and talked about real things, about changes, about our future, about our family. These things are necessary to the function of our marriage. We need these solitary moments with just each other so that we are forced to talk about the things we otherwise would brush aside once we are tackled by the girls. It's easy for me to talk about our marriage with everyone but my husband, but that isn't fixing or helping anything.
He is what matters. He and that grace. That's everything.
Wishing: 
Set up doctors' appts for the girls. // Oh gosh. Well, I scheduled dentist appts. That should count for SOMETHING, right??
Spend an hour alone with the hubs with no distractions for at least five nights. // I didn't do hot with this one either! But we did just do a mini staycation with each other which was MUCH needed and really fruitful for us.
Organize the dang laundry room. // This didn't really happen either. What is wrong with me?? But I did throw some clothes in a bin to at least get rid of some of the eyesore that is my laundry room. Eeek.
THIS WEEK'S:
Set up doctors' appts for the girls.
Meal plan!
Organize the dang laundry room. (Look at the disaster!)
Also linked with Oak and Oats and Chantel.
CURRENTLY LINK-UP RULES
1. Link your Currently post below! Entries unrelated to the theme will be deleted.
2. Link back to this site so others can join on this adventure with us. You can grab the button below:
3. The link up starts on Mondays, but you can join any day of the week!
4. *THE MOST IMPORTANT RULE* We are each here to encourage each other and build a community of women and friends. :) Comment on the blog post directly before yours to help support and get to know each other. If you do not do this, your post will be deleted from the link-up.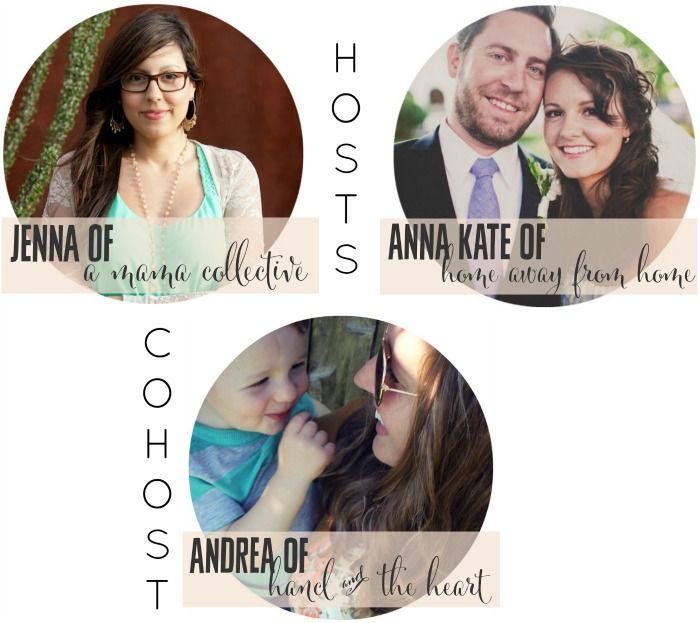 A Mama Collective // facebook // twitter // instagram // pinterest // bloglovin'
Home Away from Home // facebook // twitter // instagram // pinterest // bloglovin'
Hand and the Heart //  instagram // pinterest // bloglovin'
If you are interested in co-hosting, please email Jenna at info(at)amamacollective(dot)com to get on the list!
Here's the template for you to copy and paste and do a post as well — link up with us below!
Thinking about:
Reading:
Listening to: 
Watching:
Thankful for:
jenna guizar
In between tweeting, reading books to my daughters, and [not] burning mac n cheese, I am the Founder + Creative Director of Blessed is She women's ministry + community.